Tag Archives: facebook for a business
Posted on 22. Jun, 2011 by Julia.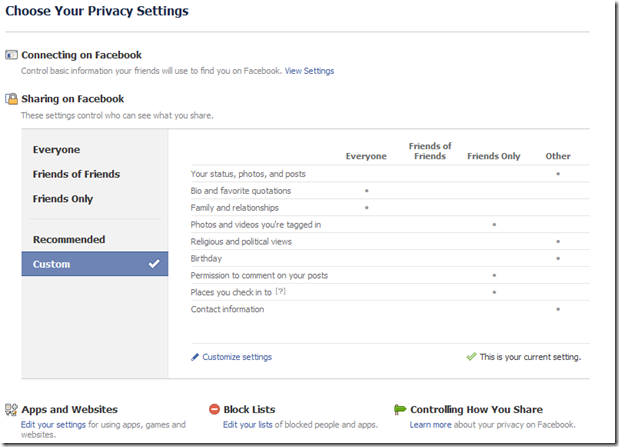 Click on  your account menu in the top right corner then select Privacy Setting from the drop down menu.
In privacy settings you can change these settings.
You can choose the predefined settings or decide what suits you best, when finish click on Apply These Settings.
Who can see what?
Here, make sure you're using a set of custom settings. Click "Customize settings" under the grid on that page to see who can see which parts of your Facebook profile.
Unless you use your Facebook account as a completely public page, every single one of these options should at least be set to "Friends Only." From there, you can make each setting more specific, keeping your photos hidden from certain people, for example.
Lists of Friends
Keep your Facebook friends in lists and define the lists according to friends, family, co-workers, besties, studens etc.  You can then set each of your  settings to be visible or not visible to a whole list of people.
"Edit Friends" under the Account menu and type in friends' names to add them to a list. Then decide what you want that person to see, eg co-workers not to see your status updates.  As you confirm people as friends direct them into the list.
Who do you want to find you?
Facebook allows you to set what people see if they're not your friend. Under privacy settings, click "View Settings" under the "Connecting on Facebook" setting at the top of the page.
Here, you can set what people see when they search for you on Facebook.
Pay special attention to the bottom option, which allows you to set who can see what you "like" on Facebook. Many don't realize that by default this option is set to show everyone what you like.
Browse Facebook
One of Facebook's most vulnerable features is that much of your browsing is done without a secure connection to the website. Hackers have exploited this hole by accessing your personal information if you use Facebook on a public or unsecured Wi-Fi network.
In your account settings, choose Account Security. There's a check box there to enable secure browsing whenever possible. Check that.
You'll soon see that Facebook will use "https://" instead of "http://." That's how you know you're more secure.
These are just a couple of ideas, I suggest you head over here http://www.facebook.com/security to do some reading.
Follow me on Facebook